After a pleasant fourteen-hour flight that involves a surprising amount of sleep in addition to three feature-length movies, we land in Auckland, New Zealand, in the middle of a brilliant red sunrise. Hopes of a sit down and a decent coffee (sorry Air New Zealand—you have work to do on that front), are dashed by the slow bustle involved in getting luggage from plane A, going through customs, walking for ten minutes through sultry sub-tropical warmth to the domestic terminal and plane B, dropping off luggage and going through security. We make it to the flight just as they call it and are soon on our way again to Queenstown where we are treated to a "Meet and Greet" compliments of the New Zealand travel company Julia worked with to arrange all our accommodations and tours.
Julia and I have a bet about when we'll be able to check into the hotel. We arrive at ten am and I am certain we'll get a room immediately. Julia scoffs at my optimism, declaring we'll be lucky to get in by two. The battle lines are drawn and we choose noon for the waging of a bet. I win if we get in before noon; she wins if after noon. We aren't that clear on what we'll win but a principle is at stake. The hotel promises to email me when the room is ready and so after storing our luggage, we set off to explore Queenstown.
What a pleasant surprise. I don't really know what I am expecting in a town dubbed the Adrenaline Capital of the World, but what I find is a charming, compact grid of mostly pedestrianized streets, a sweeping swathe of green lawn and wide boardwalks fronting the lake, jet boats bobbing at piers, and best of all, a Saturday outdoor market. Rather than give in to our pressing need for lunch at only 10 am, we spend a pleasant hour browsing the market stalls that sell an eclectic mix of handmade items in just about every media imaginable from soap to hunks of iron to jade to bone to wool (lots of wool) to wood and even to jewelry made from wine bottles. We buy soap decorated to look like cake, chat with the lady about Canada, and then finally give in and settle in at Pier 19 for brunch.
The blazing sun of a late summer day warms bones aching from a northern February. The food is beyond fantastic—perfectly cooked Eggs Benedict for me (best I've ever had and that's saying something) and French toast wrapped around warm preserves for Julia. Best of all is the proper latte that soothes away the rough edges of sixteen hours in the air and time travel from Thursday to Saturday. Where does that extra day go? Here are some first impression pictures of Queenstown.
After brunch, we decide to kick off our first day in New Zealand with a jet boat ride on the Shotover River. Julia's boss told her it was a must-do, but back in Vancouver, I'd demurred at the extra cost. $125 each for 35 minutes on a river seemed excessive. But for some reason, the moment we start strolling up and down Queenstown's short blocks, we become seduced by the many shiny tour outlets. I've never seen a town offer so many activities in such a cheerful, non-pushy way. No one ever approaches us to buy a tour; no mascots patrol the streets doling out flyers with increasing desperation; no tacky advertising mars the store fronts. Yes, there are plenty of photographs of smiling people zip lining, rafting, cycling, kayaking, jet boating, sky diving, paragliding, bungy jumping, and a few more hair frizzing activities that defy description. But there is no heavy expectation that you have to participate. We wander into the slick storefront housing the front office for the world famous Shotover Jet company and minutes later walk out with two tickets for the 4 pm pickup. Well, why the heck not?
I start looking at my phone around 11:45, expecting it to vibrate with a new email at any second. But the digital numbers click to 12:00 and Julia declares herself the winner. Three minutes later, at 12:03, the email arrives—our room is ready. Sigh.
We trudge back up the hill to our hotel—actually, a lovely walk through the edge of the Queenstown Gardens–but yes, still uphill. Minutes after we check in, we both succumb to soft beds and that strange nausea that kicks in after too many hours awake.
We struggle back to life around 3 pm and set off for our Shotover Jet experience.
Shotover Jet Boat
We board a small minibus (Queenstown must have more mini-busses per capita than anywhere else on earth) for the short drive to the Shotover River. Once there, we don rain jackets and life jackets and pile into our bright red jet boat. Apparently everyone who is anyone who has visited Queenstown from Peter Jackson to Will and Kate to various heads of state has taken a spin (literally) on a Shotover Jet. For thirty minutes, we weave up and then back down the gloriously scenic Shotover River complete with rapids and weirdly sculpted rocks. The driver carves great swooping swathes from canyon wall to canyon wall, almost touching the rocks in places, his timing impeccable. Every so often, the driver twirls his finger in the air and then wheels the jet boat into a tight 360-degree turn. Splashes and squeals are caught on video and still cameras with the results offered for sale after the trip. A biting wind and freezing spray chase away the last vestiges of jet lag, leaving us ravenous for dinner.

Would I recommend the 35-minute Shotover Jet experience for $125 per person? Absolutely. Of course, it's pricey (all of the activities and tours are pricey). However, the Shotover Jet company is the only jet boat company with exclusive rights to roar through sections of the Shotover River that resemble swirling stacks of beige-striped fudge. The only drawback is that cameras are not allowed on the jet boat–for good reason as it turns out. We are given rain jackets for a reason. The company takes pictures and offers them for sale, but $39 for three photos in a cardboard sleeve were too rich for me. The photo above comes from the Shotover Jet web site. Here's a link to their web site: http://www.shotoverjet.com/about/blog/queenstown-adventure-activities/
After the short drive back to Queenstown, we have dinner at a lakefront tapas place with slow service, tasty food (but no vegetables), and a world class view which we have plenty of time to admire. I am obliged to have two glasses of crisply enticing New Zealand Sauvignon Blanc. I barely make it back up the hill to pass into post-traumatic jet syndrome around 9:30 pm.
Queenstown: Day 2
On our first full day in New Zealand—a Sunday—the wild winds of the day before are replaced by sparkling warmth and a high UV Index, although we didn't figure that out until later. We are booked to go on the Nomad Safari of the Scenes—a four-hour jeep tour of the Wakatipu Basin—the area surrounding Queenstown—that will also include many of the locations around Queenstown using during the filming of Lord of the Rings.
Nomad Safari of the Scenes
We are picked up in a jeep with Hobbit on the license plate. This bodes well for Julia, a dedicated Tolkien fan. For the next four hours we, along with a couple from Iowa and a woman from Australia, enjoy a non-stop commentary from the very entertaining and enthusiastic guide, a half Maori, half English guy called Soap who really knows his stuff. He even played an Uruk-hai in the first Lord of the Rings movie when he was a teenager. He describes the weeks of filming in the rain for the Helms Deep battle scene. Apparently when it wasn't raining, a guy was standing by to spray the extras with water.
We drive first up to Windy Point high above Queenstown and look down on Deer Park Heights where many scenes from the movies were filmed. We then drive to another location high above the river that doubled as the Anduin River and Pillars of the King (minus the pillars). The location also over-looks the very first bungy jumping operation in the world. Apparently, New Zealanders invented bungy jumping. For $185, you can throw yourself off the bridge to the delight of bus loads of tourists (and us high on a hill above).
The jeep stops for a quick look at quaint Arrowtown—a gold rush town—before joyriding along a shallow river. Soap maneuvers the jeep in and out of the river and across rocks and sandbanks with much jolting and twisting (all good!). We have a snack by the river and are introduced to the notorious New Zealand sand flies. My bites are only just healing after three days. UPDATE: Ten days later, some of the bites are still visible and still itchy, along with the forty-odd sand fly bites I've sustained since the first day alongside the river. Ouch.
The morning ends with a hair-raising drive through Skipper's Canyon on a single-track gravel road that is so steep and so dangerous that rental cars are prohibited. I can see why. You could not pay me to drive there although I was grateful to be driven. The views were stunning.
We arrive back in Queenstown to sample our first Fergberger. The Fergberger is a Queenstown institution that has become so popular that the city was obliged to widen the sidewalk in front of the restaurant (more of a take-out place really) to accommodate the long lines of anxious burger aficionados. I don't usually get dewy-eyed over a hamburger, but I must say that my classic fergberger with blue cheese is the best burger I've ever tasted, like ever. To save the sensibilities of my vegetarian readers, I won't go into detail, but if you are ever in Queenstown and want a burger fix, go to Fergberger and wait in line. Just do it.
Jet lag hits around 3 pm so we go back to the hotel for wee naps before venturing out again—this time to The Winery and from there up Bob's Peak.
The Winery
Our guide on the Nomad Safaris mentioned the Winery—a wine bar in town where up to ninety wines can be sampled. Well, that sounded like my kind of place. Comfy chairs draped with woolen shawls cluster around small tables designed for holding wine glasses and cheese plates. I am given a chip card and directed to the various walls of wine bottles to sample. The wines are organized by grape type—sauvignon blanc, pinot gris, chardonnay, pinot noir, and so on. I start on the sauvignon blanc wall, read the descriptions of about ten sauvignon blancs available for sampling, check out the prices for a tasting, a half glass and a full glass, and then make my choice. Fortunately, the attendant tells me what to try first. I insert my card, am informed that a tasting costs $2.90, press the button, hold my glass under the spout, and voila! The wine is crisp, clean, and fruity. I am instantly hooked.
We order a cheese plate and are presented with a platter the size of a door mat. I do not exaggerate. There are enough cheese and dips to feed all the hobbits in Hobbiton with some left over for the elves. We set to work but even we are defeated, particularly since we are to go up the gondola for a buffet dinner in less than an hour.
But back to the wine, I sample five wines for a cost of about $16.00 and a good hour of enjoyment. I call that a bargain. I also get talking to two ladies from Toronto. One of them is a retired teacher and I said I'd also been a teacher and from there the conversation progressed and I end up telling her that I am a novelist. I didn't mean to self-promote, honestly, but the retired teacher asked for my card and so what could I do? It just happens that my purse contains postcards with the covers and blurbs for both books. I wonder if she will order one?!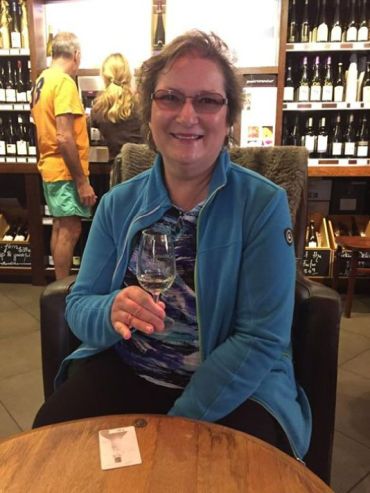 The nice people at The Winery package up all the leftover cheese (there is a lot of it) and the crackers and we set off for Bob's Peak.
Bob's Peak
The gondola ride to the top of Bob's Peak high above Queenstown is reputed to be one of the world's steepest. Riding small gondolas up near-vertical slashes through the trees is always a slightly fraught experience but fortunately the stunning scenery is enough of a distraction to keep the fear at bay. At the top, walking tracks, two kiddy-car luge tracks, a Maori show, a large gift shop, and a dining room complete the attractions. Oh, and the view over Queenstown and Lake Watakipu. While waiting for our 8:15 seating, we wander around taking pictures and then join the throngs of mostly tour bus groups in the waiting area for the buffet. The buffet is extensive and like all buffets kind of overkill. We are glad that Julia scored half price on the evening. I wouldn't have liked to have paid retail!
The ride back down the gondola and brisk walk "home" confirm our positive impression of Queenstown. It reminds me of a cross between Whistler and Banff with a little bit of Bowen Island thrown in (just a little bit). As in Whistler and Banff, every shop is a tourist shop or a restaurant and a lot of the people walking the streets are tourists. But the town also feels quite down home, like it's a place where people have chosen to live.
Day 3: Queenstown to Te Anau
But for now, we say farewell to Queenstown and set off for Te Anau. This is the day we are picking up the car and I will drive on the "wrong" side of the road. I have driven quite recently in England, Ireland, and Scotland, and of course lived and drove in England for four years about forty years ago so I'm not a total newbie. However, there is no getting away from the frisson of terror that gets in the car with me as I prepare to make my first right-hand turn—the "big" turn.
To prepare for the car-renting ordeal, we fortify ourselves with breakfast at another Queenstown institution, an amazing bakery/café called Vudu. It's a carb intolerants worst nightmare. Julia goes for the Eggs Benedict but I opt for a savory brioche, green goddess smoothie, and latte. We are not the only people taking pictures of our food.
The car pick up goes smoothly and we are soon on the road to Te Anau. The first part of the journey is alongside Lake Wakatipu, New Zealand's third largest lake as every guide we've had so far has hastened to tell us. The lake rises and falls about ten centimeters every hour. This interesting natural phenomena is attributed to the beating of the heart of an ogre/giant/bad guy. The Maori legend is long and involved but the upshot is that an ogre who stole a princess and was burned to death. The shape of the lake is like his writhing body and the rising and falling of the water is the legacy of the one part of his anatomy that did not burn—his heart. It's a much more compelling story than the geological explanation.
The drive to Te Anau is predictably spectacular. The landscape kind of reminds me of the Okanagan but not. That seems to be the way with the landscape of the South Island, at least so far. Its mountains, lakes, and trees are just different enough from what I see at home. They are less wild and yet more untouched. Pretty much the only evidence of human influence on the landscape are the fields full of sheep. Lots and lots of sheep. Every so often we also pass enclosures of grazing deer and alpacas. It's storybook land with a slightly menacing fantasy twist. Trees are thickly leaved and exotic-looking with palm-like fronds poking out every so often to remind us that we are in a warmer land than where we've come from.
In Te Anau, we enjoy a picnic lunch by the lake (New Zealand's second largest but also the deepest), and then succumb to a short nap before heading out at 4:30 for a Glowworm Cave Experience.
Glowworm Caves Experience
We enjoy a spectacular boat ride across Lake Te Anau to a cave system that we explore in groups of ten. Slippery, dark, wet, roaring. The highlight is a 15-minute ride in a small boat—rather like Pirates of the Caribbean—in total darkness. The guide pulls us along on a chain (I wouldn't want his job but he seemed cheery enough) through a cave populated by thousands of tiny glow worms. The glow worms don't like the sound of human voices so we are told to be silent for the duration of our time on the little boat. Up above, like a star-bangled sky, glow tiny points of light. Each one is the end of a glow worm that hangs from the cave ceiling waiting to catch passing insects. The experience is restful, enchanting even. I feel like Wendy flying to Neverland.
Dinner is pizza and pasta at a cheap and cheerful place in Te Anau before yet another early night. The next day is the full day trip to Milford Sound.
Day 3: Te Anau to Milford Sound to Queenstown
Milford Sound Cruise
Ever since we planned the New Zealand trip, I'd fretted off and on about the Milford Sound Cruise. Even with Julia's generous discounts, the day-long bus tour and cruise cost a fair penny and there is always the chance—quite a good one I gather—that we'll see little more than rain-streaked windows and some misty mountains. I can see both of those in stereo at home. Fortunately, weather worries are ungrounded. Our Milford Sound experience takes place in painfully perfect weather—shockingly blue skies, pointy peaks and all. We even see dolphins.
The Real Journeys bus picks us up at 7:30 am in front of our Te Anau hotel and after picking up assorted tourists around the town, set off on the two-hour drive to Milford Sound. Commentary from both the driver and a guide provide just the right supplement to the rugged scenery. The mountains and lakes and skies are almost like BC, but then not really. The trees are different; the vegetation crusting the hills is different; the crystal bright quality of the light is different. We are home and yet not home.
The trip to Milford Sound takes us up and over a mountain pass and back down to sea level where we are herded gently onto the boat that will take us on our 2.5 hour nature cruise of the Sound. Every minute of the time on the water is filled with immeasurable wonder. I've taken a few boat trips in my time—I live on an island after all—but the cruise on Milford Sound on a sharp, sunny day at the end of February will remain an all-time high point. The boat sails past waterfalls that tumble down streaked cliffs to throw rainbows into the ocean. Seals bask on rocks and at the mouth of the sound, several dozen dolphins come out to leap and swim around the boat for a good twenty minutes. The boat sails right to the entrance of the sound and into the Tasman Sea. The wind of the open ocean slams into the boat and brightens cheeks already red from New Zealand's ozone-compromised atmosphere. On one of the few times that I turn on the TV during the trip, I hear an announcer remark that New Zealand lies at the epi-center of melanoma. Not a cheering thought.
Here's just a few of the dozens of pictures snapped during the perfect Milford Sound experience.
On the drive back from Milford Sound, the bus makes several stops so people can take photographs. We check out a canyon with rock walls corkscrewed into fantastic shapes, gaze out over stunning mountain vistas, and even stop to fill water bottles at a mountain stream. I was always taught never to drink water directly from a stream, so it is shocking in a good way to dip my plastic bottle into the rushing stream and chug back water so pure and cold that it redefines what water should taste like.
We arrive in Te Anau around 4 pm and pile into the car for the two-hour drive back to Queenstown. The dramatic light of late afternoon throws the surrounding mountains into high relief. This country really is ridiculously scenic.
Next / Previous Post Navigation: