I'm so glad you stopped by! On this website, you'll get to know all about me:
What books I've written (and I hope you enjoy reading!)
My new  podcast called The Art In Fiction Podcast on which I interview authors who write arts-inspired novels listed on my literary website Art In Fiction
The comprehensive writing and mentoring services I offer
Upcoming events, workshops, and book launches
Recent reviews and interviews
My personal blog full of travel adventures and much more. If you'd like to read travel advice for arts-inspired European travel, check out my dedicated travel website Artsy Traveler.
Drop me a line to say hi!
Announcing my latest novel "Love Among the Recipes"
Readers are loving Love Among the Recipes! Own your copy now and enjoy the perfect read for lovers of Paris, food, and a touch of romance! If you've read Love Among the Recipes and are hungry for some of Genna's mouth-watering French dishes, check out these links to recipes.
Own the Second Edition of "Pastel & Pen: Travels in Euruope"
I'm excited to announce the publication of the second edition of Pastel & Pen: Travels in Europe, a "non-collaborative collaboration" between artist Gregg Simpson and myself. Over the years, Gregg and I have each in our own ways documented our travels in Europe. Gregg fills sketchpads with his drawings inspired by what he sees and I write.
The second edition of Pastel & Pen featuring five new stories and pastels is a funny and engaging collection of stories and vignettes that Europe-bound travelers will find highly relatable. The pairing of Gregg's art with my writing is symbiotic and unplanned. He doesn't illustrate my writing and I don't write about his art but put together our two art forms provide readers with "two ways of seeing."
Purchase Pastel & Pen online or contact me and I'll send you a copy.
The Towers of Tuscany is a delightful escape to the Siena we all love. Carol Cram has crafted a delicious story about a strong woman torn between her secret past, her love of painting, and the forbidden charms of her rich patron. Hard to resist and highly recommended! —Anne Fortier, author of the New York Times bestseller Juliet and The Lost Sisterhood
In A Woman of Note, Cram's writing is so vivid, you can hear the music in your head as you read. —Historical Novel Society (Designated Editors' Choice)
The Muse of Fire is another page-turner from Carol Cram – this is an enthralling narrative set in the realistically gritty London theatre world of the early nineteenth century . . . I warmly recommend this wonderful novel.--Professor Susanna Braund, Professor of Classics, University of British Columbia
In A Woman of Note, readers will love Carol Cram's colorful writing and attention to the minute details of daily life at this time in European history. . . .The book never loses its pace. and readers will be rapidly turning the pages until the very end.--Chanticleer Reviews
The Towers of Tuscany has all the elements of a wonderful historical novel . . . Carol is a first-rate storyteller. The details of dress, fabric, food, are flawless. The clever dialogue and fast pace make the novel zing along. —Roberta Rich, bestselling author of The Midwife of Venice and The Harem Midwife
From the very first page in The Towers of Tuscany, Carol M. Cram captivates with her writing, transporting you to the rolling hills and rich palette of fourteenth-century Tuscany. . . . I cannot praise this novel highly enough. —Janis Pegrum Smith, Historical Novel Society
The Muse of Fire is a miss-my-stop-on-the-train good, and that is high praise.--Designated a "Discovered Diamond", Nicky Galliers
Oh my stars, The Muse of Fire! Can I give it a standing ovation? Or throw roses at it? Or…what did people do back then when they enjoyed a theater performance…propose! Can I propose to this book, please?--Stacie Tyson, Book Blogger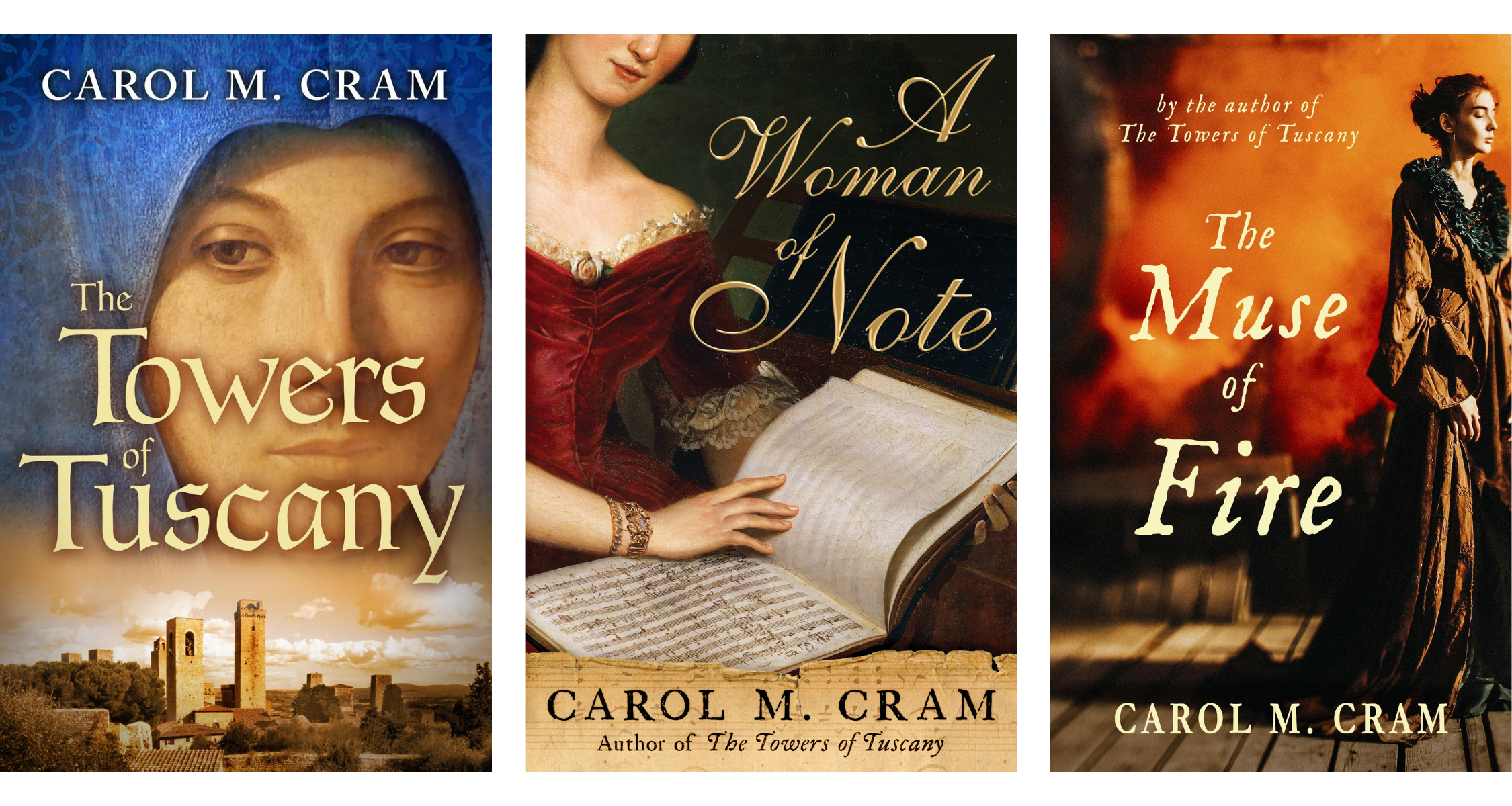 I've developed two websites that celebrate the arts! Go to Art In Fiction to discover over 1,400 novels inspired by the arts and listen to my conversations with authors on The Art In Fiction Podcast. And if you're keen to explore Europe through an arts lens, check out Artsy Traveler.
Do you need a writing mentor, a content writer, an editor, or a workshop facilitator? Contact me! As an experienced author, teacher, and editor, I love working with writers. If you've written a book (or you're thinking about it!), I can help you make it the very best it can be.