Our five-week trip to Europe in 2017 was a whirl of professional development and business activities sprinkled liberally with many, many great travel experiences. Sometimes the line between the two sets of activities blurs and overlaps–and that's what keeps us coming back as often as we can. I'm following up on my one-week Rome blog with a list of our all-time favorite moments of our Europe 2017 sojourn. The moments are in no particular order–a description of a concert in Paris might rub shoulders with a day in the Tuscan countryside. The common thread is that all experiences have formed the basis for memories we will revisit many times in the coming years. Not all experiences are good onesm but very often the most difficult times are the ones we talk and laugh about the most!
I've also provided links to the many amazing places we stayed at through booking.com. I've used a lot of travel sites over the years and I keep coming back to booking.com. They have great listings, extremely responsive customer service, and a convenient interface so I always know where I'm staying next.
[booking_product_helper shortname="banner for 2017 europe blog"]
Here goes!
An Unplanned Concert at the Paris Philharmonic
We are both classical music lovers and as such often check out what's on in a city during the time we'll be there. For our Paris stay, we reserved tickets to Pelleas and Melisande, Debussy's wonderful opera, months in advance. But we've found over the years that some of our very best concert experiences happen when we just stumble across a listing for a concert and go to it on the spur of the moment. I happened to see a poster for a concert at the Paris Philharmonic hall in Villette–a two-stop metro ride from our Paris AirBnB. The concert featured a pianist playing Tchaikovsky's Piano Concerto #1 so of course I suggested we go. Alas – the concert was sold out–and no wonder we found out later when we discovered the calibre of the pianist, Yuja Wang–a 30-year-old virtuoso from Bejing.  I clicked the link on the Paris Philharmonic website to get us on the waiting list and the next day I received an email: tickets are available–but only for the most expensive seats. Knowing our record with finding awesome concerts on the fly, we bought the tickets. Our seats were dead center in the stalls in the fabulous concert hall. I've been to my share of good concerts over the years, but this concert stands out as one of the very best. The Orchestra dell'Accademia Nazionale di Santa Cecilia from Rome was conducted beautifully by Antonio Pappano who practically levitated from his podium. A highlight of the concert was the enthusiasm of the audience. I've rarely seen such energy in a classical music audience. We joined them in clapping for and getting three encores from the marvelous Yuja Wang and two encores from the orchestra itself after their sublime rendition of Respighi's Fountains of Rome and Pines of Rome. The entire hall vibrated–with horns stationed at three locations way, way up above the highest balcony. Talk about surround sound.

Relaxing in the Sun in the Tuilleries
One of the great pleasures of hanging out in Paris in warm weather is lounging in one of the slouchy chairs scattered around gardens such as the Tuilleries and the Luxembourg Gardens. We had two hang out sessions in the slouchy chairs around the big pond in the Tuilleries–one on a grey chilly day and another on a glorious afternoon when the sun encased us in warm gold. On dark and rainy days in winter, I can tap into the feeling of perfect contentment I had while relaxing with nothing to do and nowhere in particular to go in Paris on a sunny afternoon in May.
Alone in Siena's Pinocateca
While the tourists head in droves for Siena's wonderful cathedral and its even more amazing campo and Palazzo Pubblico, I head down a side street to the little visited Pinocateca to see its extensive collection of fourteenth century paintings. I had the many rooms full of big-eyed Madonnas and depictions of scenes from the lives of various saints all to myself. The flat, almost two-dimensional style of the medieval painters appeals to me. The paintings feel more honestly spiritual and connected to the subject matter than paintings done a hundred years later in the Renaissance. I get the sense that the artists–many of whom were anonymous–painted as a form of devotion. They also were filling commissions and keeping workshops going, but that doesn't take away from the genuine emotion I feel coming from the paintings. Of course, I'm biased because of writing so many painting scenes in The Towers of Tuscany! Anyway, I wandered alone and thrilled through the rooms–doubly back to go through twice. I was particularly drawn to the many series of panels showing scenes from the lives of saints. These scenes provide a window into the medieval world. I snapped a lot of pictures for research purposes as I prepare to get going on The Merchant of Siena–a sequel to The Towers of Tuscany.
While in Siena, we stayed at a lovely hotel steps from the wall and overlooking stunning views of the Tuscan countryside. If you're visiting Siena, the Hotel Athena is a perfect choice. The rooms are spacious, the breakfast good, and the location just a short walk to the city center. We stayed two nights!
Dropping Two Boxes of Paintings at Charles de Gaulle Airport
How hard could it be? We had the address of the shipping company that we'd contacted to take two boxes of Gregg's paintings from Paris to Perugia in Italy where the boxes would be stored by Gregg's agent. The GPS was programmed and the car packed. What could go wrong? Well, first off we had to drive from our apartment in Paris up to the daunting Peripherique and from there north to Charles de Gaulle airport. The shrill screams of the British lady on the GPS failed to get us onto the right road which meant another twenty minutes of swear words (mostly mine) and fancy driving (Gregg's) to get us onto the main highway. God help you if you miss a turn off the Peripherique! You could end up at the Eiffel Tower in eight lanes of gridlocked traffic with motorcycles roaring up the gaps between the cars on both sides.
We followed the GPS faithfully to the no man's land of warehouses and trucks that encircle the runways of any major airport. How can there be so many? But surely the GPS would not steer us wrong. Right turn, left turn, straight on, another right turn and…we are informed that we have arrived at our destination. Ah, no. A security guard, clipboard in hand, hurried over to assure us that no, we were not at the right address. I pointed to the GPS. He shrugged and smiled and said that the GPS sucks or words to that effect in French.
Three times we followed his directions to find the right address only to keep returning to him with increasingly sheepish smiles and worsening French. Fortunately, he was a patient man and really wanted to help us. Finally, he took us into one of the buildings where a woman informed us that we needed to go farther over to yet another segment of warehouses. When we got there, I spotted a small truck with the name of our company on it. Good – we must at least be close. I called the company again – our third time–and finally connected with our English-speaking contact who hung out of his second story window above where we were parked and waved. Yeah! We had arrived after being seriously inches away from giving up.
It was smooth sailing from there. Two guys carried the boxes into a storage unit and then took  us upstairs to the office to process the paperwork. Thirty minutes later, we were on the road again and Gregg's paintings were tagged and ready for shipping back to Italy to await more exhibitions!
Two Days of Unplanned Rest in St Paul de Vence
We had a week between the Rome exhibition and the Paris exhibition, and decided to spend a portion of it in a lovely little stone house overlooking St. Paul de Vence in the hills above Cannes on the French Riveria. The breathtaking view from the terrace of the Petite Maison included the jumble of village houses in the foreground and a 180 degree vista stretching east from Nice and west to Antibes that took in a broad swathe of the deep blue Mediterranean Sea. We sighed with relief and got ready to enjoy ourselves for two days of total Rest and Relaxation. I got rest all right–two days of tossing and turning, shivering and burning as a weird flu dug into my bones with a malignant malice that made hobbling from bed to bathroom a new exercise in pain. But how could I even groan out a complaint? From the bed, I could see the Mediterranean Sea and feel warm winds wafting through the windows.
When I finally started to feel better, Gregg and I indulged ourselves with our favourite South of France fantasy. What would it be like to come and stay for a long time–two, four, even six months? How about January to June – leaving just before the crowds and heat got unbearable? Sixteen years ago in late August of 2001, we tried to buy a small house in the hills west of the Riviera. The deal fell through without costing us more than a few hundred francs (this was before Euros), but we did learn our lesson that any stay in the south should be relatively short and rented. But the dream still lives on of us finding a nice little house in the countryside where I can write and Gregg can paint and we can break off for walks in the country and visits to the local market.
Here's to hoping we get back to the south soon–and that next time I'm not too sick to enjoy myself.
Light Playing Across the Rhine
On our second to last night in Europe, we went to Arnhem–a small city in the middle of the Netherlands that we visited on our last trip in 2015. We'd intended to again visit the spectacular Kroehler-Mueller art museum that is set in the middle of the even more spectacular Dutch National park a few kilometers from Arnhem. But with home looming close and museum overload setting in, we decided to just stay put and enjoy the view from the terrace of our room at the NH Rijnhotel. The hotel overlooks an arm of the Rhine River that flows majestically past on its way to the North Sea. The view changed with the light–from the dull afternoon when we arrived to a post-rainstorm blaze of sunshine to the achingly subtle shades of the river at dawn.
My Lunch with Martin
I've never actually seen the move My Dinner with Andre but I thought I'd steal the reference because it's kind of literary and my lunch (well, our lunch) with Martin and his wife was just so darn enjoyable and deserves a spot in my top memories list. Fellow author Martin Lake moved with his wife from England to Menton in the south of France about five years ago where he now writes mostly historical fiction full time. We met last year at the Historical Novel Society conference in Oxford, UK, and discovered we had a lot in common, not least the sharing of a publisher – Lake Union Publishing. In the intervening year, thanks to Facebook, we've kept in touch. Our route from Italy to the Riviera took us practically past his doorstep. We arranged to meet for lunch and spent a wonderful two hours comparing notes while our long-suffering spouses got a word in edgewise when they could! I so rarely get to really talk with a fellow author that shares so many of the same challenges and concerns as I do that I could have talked all day.
I forgot to have a picture taken with Martin, but he's easy to find at his website to check out his many novels.
Chilling with the Canadians in the Musee d'Orsay
In our experience, the Musee d'Orsay puts together excellent special exhibitions that show art in the context of a theme without getting too didactic. We've been to exhibitions at other museums where the curator's vision and the writing about the exhibition overshadowed the actual paintings on the walls (see description of the Vermeer exhibition later!). But not so with "Mystical Landscapes: Masterpieces from Monet, Van Gogh and more…" The exhibition "breaks new art historical ground, exploring the mystical experiences of 37 artists from 14 countries, including Emily Carr, Paul Gauguin, Vincent van Gogh, Piet Mondrian, Claude Monet, Edvard Munch, Georgia O'Keeffe and James McNeill Whistler." Also included were a fantastic selection of works by some of our own Group of Seven painters – Lawren Harris, F. H. Varley, and Tom Thompson. In fact, in our opinion, the works by the Canadians (including Emily Carr) played second fiddle to no one. They were as compelling and beautiful as the more famous works by Monet, van Gogh, and the gang.
The exhibition was thankfully not crowded, leaving us plenty of time and room to wander from painting to painting in art-induced wonder. The written descriptions–thankfully in English and French–were kept to a minimum (we've been to exhibitions where the writing on the wall takes up more room than the paintings) and were relevant and interesting. We will rank this exhibition as one of our all time favorites. We followed up our visit to the special exhibition with a quick romp through the fifth floor collection of all the Impressionist biggies–Monet, Manet, Renoir, Morisot, Cezanne, etc., etc. The Musee d'Orsay never disappoints.
Strolling with the Romans on the Appian Way
I wrote about our Appian Way day in my Rome blog, but it deserves a second look-in here as part of the greatest memories package. We will talk about our stroll along the Roman cobbles of the Appian Way for many years to come–the warmth, the birds, the pines feathered against the electric blue sky, the crumbling bits of masonry topping ancient graves–yeah, it was all good. A highlight was the festival of ancient Romans taking place in a field at the start of our stroll. Local people dressed as centurions and legionnaires complete with plumed helmets and armor marched in formation, sock-clad feet in imitation ancient sandals slapping the cobblestones, swords clanging, leather tunics creaking. Scattered around the field were tables manned by people dressed in various Roman costumes demonstrating Roman crafts—matrons and merchants in simple white tunics; vestal virgins dressed in alluring green togas, hair teased into elaborate braids and swirls; the occasional toga-clad aristocrat; even a priest carrying incense and intoning prayers. I could have stayed for hours, but our pastoral stroll back through the centuries awaited.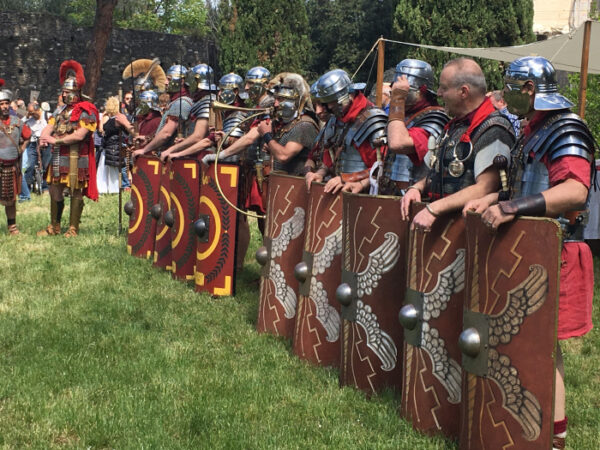 Three weeks after our Appian Way walk, we sat in the Paris Philharmonic listening to an Italian orchestra play Respighi's Pines of Rome in which the fourth movement is entitled The Pines of the Appian Way. I didn't know this until later, but while listening to the piece I was transported back to our Sunday morning on the Appian Way in Rome. Respighi perfectly invoked the heady combination of pastoral beauty overlaid with the ghosts of two thousand years past whispering among the graves and wafting down from the over-arching pines.
In Search of My Great-Grandfather Earnest Seaton
I was maybe eight or nine years old when my grandmother told me about the day she found out her beloved father had been killed in the Great War. Granny had just turned ten a few weeks earlier. She and her mother, two sisters, and a baby brother had recently arrived in England after crossing the Atlantic Ocean in a troop ship, courtesy of the Canadian government. Yes, hard to believe as it is now, my great-grandmother (who died when I was 8), decided at the age of 30 to take her four children back to England. She and her husband had emigrated from northern England to Canada just a few years earlier in 1911, but when war was declared, great-grandpa Seaton answered the call of King and Country and shipped out to Europe, leaving behind his wife and four young children. The letters he sent home to my great-grandmother have not survived–my great-grandmother allegedly burned them all sometime in the 1920s. However, he must have asked my great-grandmother to come over because with the blessing and financing of the Canadian government, she and her four children took a train from Vancouver to Montreal and then boarded a troop ship bound for Liverpool. Granny told me how she remembered the smell of the horses in the hold and how some of the young men on their way to the battlefields of France played with the children.
The family arrived in England just days before receiving the telegram telling them that Corporal Earnest Seaton of the Royal Canadian Engineers had been killed by a sniper on August 16, 1916. Granny told me that she remembered hearing the news and then everything whirling around her as she fell backwards into darkness. Granny adored her father and talked about him often.
Our route from Paris back up to Holland to return our rental car in Amsterdam and fly home to Vancouver took us very close to the village where Earnest Seaton is buried. I decided that I had to find his grave. Thanks to the Commonwealth Graves website and GPS, I had the coordinates of the small cemetery ("only" about 600 graves) where he was buried along with mostly British casualties. We left the highway and drove through stunningly beautiful countryside. My imagination could not leap backwards 101 years to see the peaceful fields ripped into trenches and littered with dead young men. Every few miles is another cemetery–Australia, New Zealand, Britain, France, Canada–all the headstones uniform and beautiful in their white rounded symmetry.
In the tiny village of Aveluy, we found the community cemetery. I paced from row A to row G up a slight hill, and then walked slowly along the graves past grave after grave of young men–aged 18, 19, 21, 18, 20 to grave #31–Earnest Seaton, age 32. Here was the grave of the man who by his death had shrouded my grand-mother with a sorrow she took with her to her own death at the age of 98. Granny's voice always had a tremor in it when she talked about her father and that terrible day in August of 1916 when her life changed forever. One hundred and one years later, the 61-year-old great-grand-daughter who Earnest Seaton had not lived long enough to meet, stood in front of him, laid one hand on his headstone, and breathed.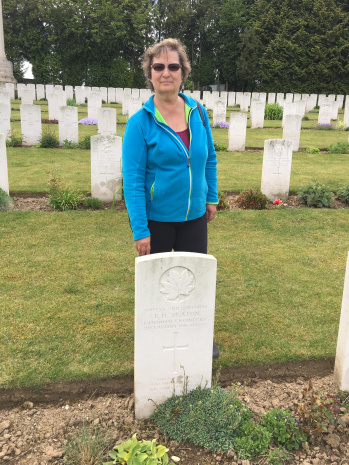 Vying for Vermeers in the Louvre
Well, it seemed like a good idea to get advance tickets for the Vermeer exhibit at the Louvre. I mean – Vermeer! Who doesn't like Vermeer? Besides, when we were in the Reijksmuseum in Amsterdam at the start of our trip, we saw a few gaps in the Vermeer collection because the masterpieces were on tour to Paris. Surely it was committing a cultural sin of mammoth proportions to not go see them. So, like dutiful and smart travelers, we pre-ordered our tickets on the Louvre website, and showed up at the appointed time. We foolishly thought that the 3:30 time slot printed on our tickets meant that we got into the exhibition at 3:30. Ah, no. The 3:30 time slot gave us access to two line-ups. The first lasted about 30 minutes which we endured with relative ease because at least it was out in the rotunda under the pyramid and although hot, some fresh air spiraled down from the top of the escalators. After passing that first hurdle, we were ushered into a dark holding pen containing about 300 unlucky culture seekers like ourselves. Every two minutes, about ten people at the head of the snaking line were let into the exhibition. That doesn't sound too bad. Yeah, well, another 45 minutes passed and finally we were admitted to the inner sanctum only to discover that the exhibition well, sucked.
How can a Vermeer exhibit suck? It sucks when the wait to see it is out of proportion to the pleasure to be gotten looking at a handful of Vermeers mobbed by onlookers and hung amidst a whole lot of also-rans. On each wall was a Vermeer masterpiece—and yeah, most of them are spectacular. However, to prove some obscure curatorial point that we missed, each masterpiece was flanked either side by four or five paintings of very similar subjects but done by lesser known artists. Now the paintings by these artists were certainly good and if seen on their own would merit a quick glance. But, set against the obvious mastery of the paintings by Vermeer, the supporting works just looked badly done. On the plus side, the pairing of the Vermeers with the also-rans really highlighted just how awesome the Vermeers are—the incredible detail, the sheen of the surface, the depth and use of light—all incredible. But we couldn't help feeling sorry for the paintings that were seemingly included to highlight just how good the Vermeers were in contrast. I'm glad the artists are long dead. I mean honestly – hey – do you wanna be in a big show at the Louvre where the main purpose is to show how inadequate, nay crappy, your work is compared to the masterwork we're going to place right next to it? What artist wouldn't welcome that opportunity?
Maybe we were just a bit jaded after our close to two-hour wait, but if you're in the Louvre this summer, get tickets for the regular exhibitions and skip the Vermeers.
A Fan Encounter
With only two novels under my belt, I have had only a small amount of experience with fan encounters. Occasionally, I'll run into someone–usually at my mother's seniors residence (I'm a big hit with the over-eighties) who will tell me they liked one of my books, but I've never received a fan letter or even been stalked by the paparazzi. So imagine my surprise when I received a text message from the San Gimignano 1300 museum in San Gimignano asking me if I'd come in to sign a book.
I'll start at he beginning. On a brilliant blue morning in late April, Gregg dropped me off at the gates of San Gimignano so I could indulge myself with several hours of wandering through the streets that inspired The Towers of Tuscany while he went back to the hotel and did some drawing. I adore San Gimignano, despite the crowds and tourist shops and slightly medieval Disneyland feel of the place. In just a few seconds, I can duck down a side street and be alone with my visions of Sofia hurrying toward her father's workshop or riding a donkey out of the city and away, or so she thought, from her husband forever. I carried about ten copies of the novel to deliver to the San Gimignano 1300 museum–one of my very favorite small museums that was instrumental in helping me write The Towers of Tuscany. Back in 2009 I visited the museum to view its scale model of how the town of San Gimignano looked in the year 1300–just 38 years before my novel took place. What a gift to a novelist! In the years following my 2009 visit, I spent many hours pouring over the pictures I took of the town model as I plotted scenes.
I arrived at the museum and gave the lovely woman who runs the place copies of my novel to replace the dozen or so I left her two years earlier. She told me that she'd kept one novel out as a display and told people how they could order the book online. Fortunately, now she's decided to order copies directly from the distributor when she runs out of the ten copies I gave her. Anyway, she told me that about a month ago, she sold the last copy to a woman who absolutely insisted that she had to have it. The woman didn't care that the book had been well thumbed and was only a display copy. For some reason, the title and description resonated with her and she bought it. I was pleased to hear it and then thought no more about the story over the course of the day spent wandering blissfully around San Gimignano, snapping pictures and dreaming.
Much later in the afternoon after a few hours back at the lovely Hotel Pescille to write, Gregg and I returned to San Gimignano for another stroll and dinner. I decided to drop into the museum to say one last hello and good-bye since we were leaving the next morning for Florence. On my way across the Piazza di Duomo, about 100 metres from the museum, I get a text – are you in San Gimignano? Can you come sign a book? Well, what a coincidence. We hurried to the museum to find the very woman who a week before had bought the very last copy of the novel. She was an English ex-pat living not far away on a horse farm. Apparently she'd just decided that morning that she had to go to San Gimignano to get another copy of the novel. Why she wanted another one was a mystery since she'd already read the book, but there it was. She arrived to find out that the author (moi!) had just dropped off a supply of books that morning and was quite possibly close by to sign a new copy. The hugs and squeals when I arrived at the museum can only be imagined. The woman was so very kind in her praise–as my granny used to say, I was in danger of getting such a swelled head that I'd have to walk through doors sideways.
I'm not sure that I can top my day in San Gimignano complete with fan encounter, so I'll stop now. Our journey included many more wonderful moments–museum visits and  concerts; art viewings and cultural overloads; many meetings with artists, writers, and curators; hours of long car rides listening to jazz and talking about life while enjoying the passing vistas of fields and mountains and incredible skies; weeks of lovely dinners and talks and time together; and most importantly, time to reflect and be inspired. I feel revved up now for many months of solitary work in my tiny cedar-logged office where I can commune at will with my imaginary friends, casting back over the sponge of memories to squeeze out new scenes and insights and plot points.
Next / Previous Post Navigation: