Onwards to Colle-sur-Loup
We have a short day of driving from Lyon to the tiny town of Colle-sur-Loup on the road leading north from Cagnes-sur-Mer to Saint-Paul de Vence in the south of France—the fabled south of France.
It's stunning here. The Hotel Marc-Hely* is exactly what I'd hoped for when booking it a few months earlier. The balcony overlooks a wide, green valley leading to the tourist-clogged, but cloyingly charming village of Saint-Paul de Vence.
To the Maeght Foundation
After getting settled, we drive up to our beloved Maeght Foundation outside Saint-Paul de Vence. This is one of Gregg's favorite museums in the world—first visited when our daughter was eight years old during our first trip to Europe as a family. The grounds are studded with a marvellous collection of modern sculpture by artists such as Miro, Calder, Braque, Giacometti, and Leger. The current exhibition—The Spirit of a Collection: Donations—is less compelling than we'd hoped. However, just being at the Maeght and wandering through its airy rooms is enough to remind us why we have such a soft spot for the place.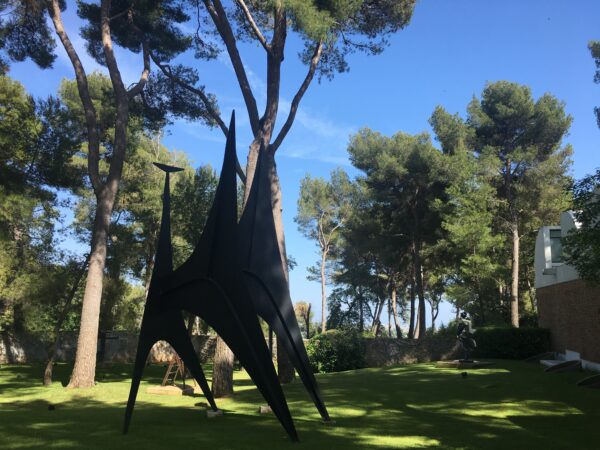 We make our way back to our hotel and I spend a happy few hours on the balcony getting reacquainted with my first glass of French rosé purchased at the Super U in Lyon.
We Almost Move to France
Nicely lubricated (well, at least I am), we set out again for a "nice" dinner. While traveling, we normally go for reasonably priced, regular meals, but two or three times in a trip we go all out and splurge on gastronomic distinction. And what better place to do it than France? The reviews for the restaurant we choose are excellent and the prices not too exorbitant considering it's the south of France. We are not disappointed. Every mouthful of the meal eaten outside in a courtyard and served by the chef's wife is superb. We kill a bottle of rosé between us with me generously drinking the lion's share because I don't do the driving and fantasize about moving permanently to Europe.
We could sell the house, right? And find an apartment to rent—maybe on the coast? In France for sure. I mean we practically speak French! Well, we can order a meal. Menton looks nice. Or maybe Saint-Raphael. So much choice! And we can fly home for lots of visits. The family would barely know we're gone.
The next morning, both of us nursing slight hangovers, we realize the impracticalities of our plan and soberly pack up for the last leg of our journey.
An hour later, we are bumping up the tiny country road leading to our HomeAway home for the next two weeks.
*This blog post contains affiliate links from booking.com to hotels we actually stayed in and recommend. If you click one of the links, I could be rewarded credit or a commission of a booking. You don't pay any extra. Please know I have my readers' best interests at heart and only list places I'd recommend to my best friend.
Next / Previous Post Navigation: