We spend the last week of our six-week trip to Europe exploring northern Portugal, spending time in Figuera da Foz, Porto, and finally Lisbon. These areas of Portugal, particularly Porto, are well worth visiting. For more blogs about Portugal, check out some of our earlier trips –
Disclosure: This site contains affiliate links for products and services I recommend. Read my Disclosure for more information. If you make a purchase through these links, at no additional cost to you, I will earn a small commission. Thank you!
Hanging Out in Figueira da Foz
From the Algarve, we drive first to the town of Figueira da Foz which is located on the Atlantic about halfway between Lisbon and Porto. We are here for two nights to visit artist friends of Gregg. The weather turns grey while we are in Figueira da Foz and so we get little joy out of the enormous sand beach that stretches the width of the town. On sunny days, it must be hopping but in the cool weather, few people are around.
We like Figueira da Foz because it feels much more authentically Portuguese than the Algarve or even Lisbon. We spend an enjoyable two days visiting with our friends and stretching out in one of the largest hotel rooms of our trip. We are staying in the Eurostars Oasis Hotel*—a business-style hotel right on the beach that the locals nickname The Titanic for its sleek and intrusive architecture. It stands out like a sore thumb, but it is comfortable and convenient.
We have a great meal in downtown Figueira da Foz with our artist friends. Food and wine and port flow freely!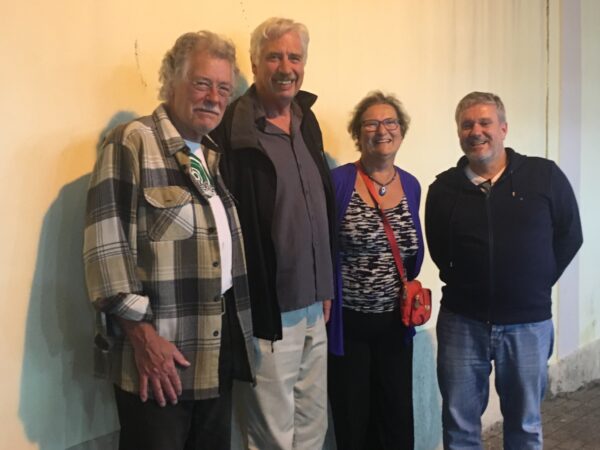 We notice a real difference between the people we see here in Portugal compared to the Spanish. Obviously, the language is different, but the people are too, possibly because Goths conquered Portugal many moons ago leading to a different DNA pool than prevalent in Spain which had more Moorish influences. I don't know, but I find it interesting that so many of the older men remind me of my grandad—short, stocky and northern Irish looking which kind of makes sense if Celtic and Gaulish people settled here. Who knows, but the people are definitely not Spanish and do not appreciate people speaking Spanish instead of at least trying to speak Portuguese. We are careful to say abrigado or for me abrigada instead of gracias, although just about everyone, particularly young people, speaks excellent English.
We leave after two nights for a short drive north to Porto for a three-night stay. Although we've visited Portugal twice before, we've never been to Porto—a town which we've heard everyone rave about.
Enjoying Wonderful Porto
Porto is enchanting. It's kind of funky and shabby and squished together and yet with an earnest charm that we instantly fall for. Our place is an apartment on the fourth floor of an old building that has been renovated inside but with a facade that retains the characteristic blue and white tiling. We have an amazing view over the sparkling Duoro River teeming with low-slung tour boats, the air alive with seagulls. Tourists swarm along the riverside walkway below us, so we decamp for quite a bit of time to the apartment with the windows flung open to the blue sky, the breeze fresh and sea-laden. Here are the views from our apartment – Douro Apartments – Rivertop*. Highly recommended.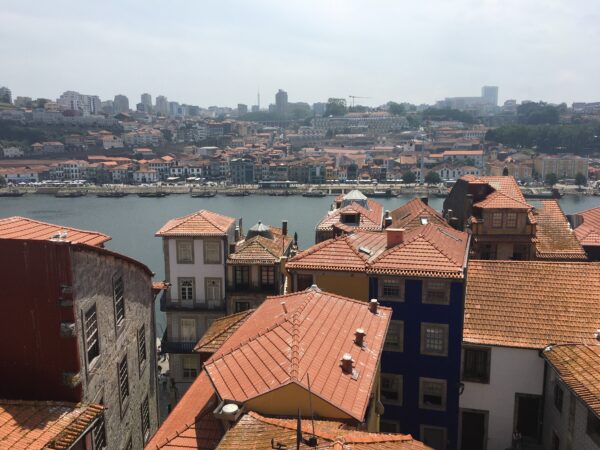 We spend our two full days and three nights in Porto quietly, enjoying the atmosphere, eating very well in the riverside restaurants and partaking of the port. We don't join the crowds making a beeline for the port-tasting tours, but we do sample our fair share . We also go to a Fado performance. Porto is not known for Fado, but there is one place—the Fado por Casa da Guitarra—that holds intimate concerts and includes a glass of port. in the ticket price The fado singer is a young woman, and she blows the roof off. I have had a soft spot for Fado—Portuguese hurtin' music—since our first trip to Portugal in 2010. The longing and passion of the singing and the guitars raises goosebumps along with vestiges of ancestral memory. When I listen to Fado, I am transported to a very different time and place, but one in which I belong. Fado takes my breath away. Here's Porto as seen from the Gaia side of the river through port.
M. C. Escher Exhibition
A highlight of our stay in Porto is a visit to a major exhibition of the work of M. C. Escher. Prints of his cool, illusionist drawings have adorned the walls of many an undergraduate during the 1970s (including mine). The exhibition is extensive and thoughtfully curated. We also have the place to ourselves. The exhibition included a room that demonstrated optical illusions. Gregg is standing in two corners of the same room and yet he's tall in one corner and small in the other corner. Very interesting!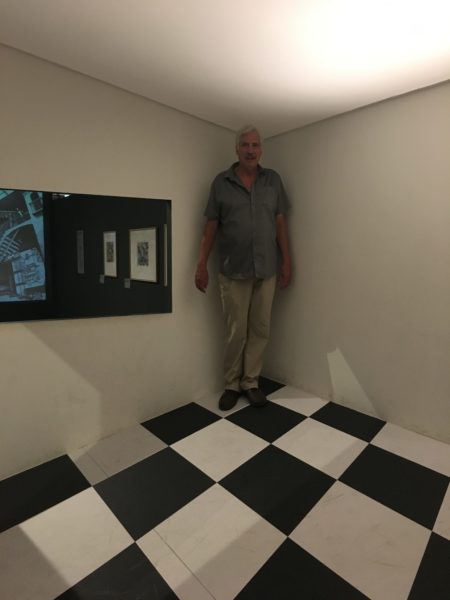 The Center for Portuguese Surrealism in Famalicão
On one of our two full days in Porto, we drive north from the city to the Centre Portugais du Surréalisme—the Center for Portuguese Surrealism in the amiably obscure little town of Famalicão. Gregg has an appointment to meet with a curator there about an exhibition of his early work. After his meeting, we are taken on a tour of the gallery (which is huge) and the rest of the large facility which includes a library and concert hall. We leave hoping to return to the exhibition, possibly in 2021 or 2022, but no dates are confirmed as yet.
Off to Lisbon
Our drive south to Lisbon goes smoothly and with great gratitude and relief, we drop our trusty Dacia Duster at the airport and take a cab to our last hotel in the heart of the Baixa district of Lisbon. In 2010, we spent two weeks in Lisbon and appreciated its slightly shabby, lived in atmosphere. We stayed in an apartment in the Alfama district which at the time was sleepy and authentic with black-shawled ladies selling salt cod and roosters strutting through quiet cobbled streets. All that is no more. The Alfama is heaving with tourists with schlocky tourist shops every two feet and nary a Portuguese person in sight. We can't help but feel depressed and a little horrified.
Our hotel, the Hotel Vincci Baixa*, is at least a welcome oasis in the swirling masses of touristy Lisbon. Although the room is quite small, it is comfortable and the lobby area is chic with friendly and helpful staff. Lisbon is not a cheap city anymore and so the price was higher than we normally like to pay, but it was worth it for the comfort and location.
Fortunately, the tourists thin out in the evening and on our second to last night, we walk through the sultry air to the Barrio Alto neighborhood to experience one more night of Fado. We end up in the same restaurant we'd visited nine years earlier to hear the same singer we'd listened to back then. The performance by him and several other fado singers who drop in is magnificent and sadly ill-attended. We are two of only seven people in the place. In one of the breaks, the guitar player sits down with us for a chat. We have a great time and stroll slowly home through the emptying streets, happy to have seen Lisbon at its best.
On our last full day in Europe, we take it easy with short walks around the area near the hotel and out to the river. New to me on this trip are the battalions of tuk-tuks wheeling in all directions on the hunt for tourists. Between them and the double-decker sightseeing busses, I get the impression that only tourists come down to central Lisbon.
I visit the new Lisbon Story Center on the massive Praça do Comércio and enjoy the multi-media displays chronicling the history of Lisbon from antiquity to the present. It's geared to the tourists, of course, but I liked it. There's lots of dioramas (I'm a sucker for them) and a great film dramatizing the catastrophic earthquake in 1755. Here's a link to the website more information.
In the evening, we have an excellent meal in one of the restaurants lining the Praça do Comércio and walk to the river for a long last look at the sailboats in the sunset.
Then it's back to the hotel to pack up for the final time after six weeks. The next morning, we're up at 3 am and on our way to the airport and home.
Europe 2019 has been an awesome trip, and now the planning begins for Europe 2020.
*This blog post contains affiliate links from booking.com to hotels we actually stayed in and recommend. If you click one of the links, I could be rewarded credit or a commission of a booking. You don't pay any extra. Please know I have my readers' best interests at heart and only list places I'd recommend to my best friend.
Next / Previous Post Navigation: