It's evening of Day 6 and two sturdy black carry-on style duffle bags are waiting for us in our room when we check into our hotel in Nelson the night before our three-day, two-night kayak-walk adventure in Abel Tasman National Park. That little detail endears me to Wilsons, the company running the tour. From the moment I open my lovely new bag to when I empty it of salt and sand-crusted clothes at the end of the tour three days later, every detail is cheerfully taken care of.
Promptly at 10:15 am on the morning of Day 7 of our New Zealand Odyssey, a bus arrives at the hotel to pick us up for the 40-minute drive to Motueka. The drive takes us through one of New Zealand's bread baskets—rolling fields of apples, hops, and grapes along with many other crops. A few decades ago, the region was famous for its tobacco growing but most of that is finished now in favor of more healthy and less tax-intensive foods. At the Wilsons office in Motueka, I put my cash, my phone, and my passport in the company safe and receive my day pack which I load up with a jacket (never once needed), my camera, the company-provided water bottle, my bathing suit and beach towel, a pair of water shoes which will apparently be needed later in the afternoon, and the obligatory bottles of insect repelant and sun screen. I experience a few moments of terror giving up my phone, but decide that three days with no access to a screen will do me good. Julia does not give her phone up, although the following day she puts it in her back pocket and then sits on a rock. It cracks and she is not amused although fortunately the damage is not terminal.
From Motueka, we drive to Kaiteriteri and board the boat at noon for a one and a half hour trip up the coastline of Abel Tasman National Park. What takes one and a half hours by fast boat going up will take three days coming back via track and kayak. The boat trip is glorious—yellow crescents curve around turquoise seas against a backdrop of densely forested rounded hills. It's a fantasy coastline of perfect golden beaches—almost empty and inviting–fringed by crystal clear waters.
We sit up top where cool breezes tame the semi-tropical sun. Slatherings of sun screen are probably useless but we do it anyway. The boat makes several stops on its way up the coast—people get off and on headed for other parts of the track.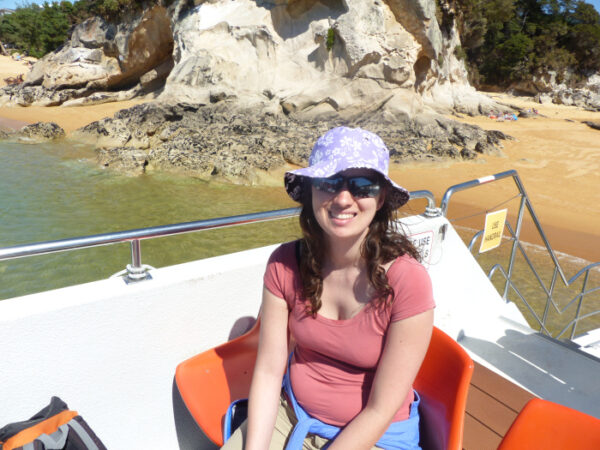 We land at Totoranui and get ready for what will be a seven-kilometer walk along a portion of the Abel Tasman track to our first stop—the Meadowbank Homestead where the ancestors of the Wilsons first settled as pioneers back in the 1880's. We trudge up the soft sand beach to the beginning of the track. I am a little bit nervous as I discreetly size up the other eight people in the group to compare likely levels of fitness. I'm worried I might not be able to keep up after a relatively sedentary winter. There is a couple from England, a couple from Santa Fe, a couple from Belgium, and another couple from Auckland. All of them are probably a few years older than me, but a few of them look pretty fit. I hope I don't embarrass myself.
The first part of the track is a stroll past the campground. The three-foot wide, evenly graded, hard-packed track soon starts to climb. I hate that my breathing turns quickly to gasps. Will I be the lame duck of the group, trailing far behind, praying for quick death? Comparisons are odious but I can't help it.Fortunately, I manage to keep up with Garrick, our knowledgeable and cheerful guide who, bless his Kiwi heart, stops frequently during the climb to point out flora and fauna and talk about the sobering effects of climate change and the damage wrought by centuries of misuse by humans, particularly during the past two centuries. Starting with the Maori about a thousand years ago, non-native mammal species were introduced into an eco-system that hosted just three mammals (and two were bats). Rats, stoats, ferrets, possums, rabbits, and many more furry wee beasties devastated a bird population that included several species of flightless birds such as the kiwi. The poor things didn't have much chance against marauding mammals.  I never realized that the reason New Zealand has so many flightless birds (and they used to have a lot) was because the birds had no mammalian predators. Once so many mammals were introduced, the New Zealand bird population plummeted by 97%. That's a lot of birds gone forever. The forest we walk through looks primeval but is in fact second growth, just like at home. Birds are in evidence but so many fewer than there would once have been. At every bend in the trail is a trap for ferrets and stoats. We reach the first summit and are rewarded with a view of a perfect arc of golden sand melting into an impossibly blue ocean.
We then head downhill, occasionally glimpsing the ocean but mostly enclosed in forest. The track leads to an empty beach. We walk along it for a fair distance, the sun blazing and calves aching. I look for wetter sand that doesn't give as easily but progress is slow. We head back up the track for another climb—steeper but not too long. My confidence grows. The group spreads out on the track winding over mostly flat ground, often enclosed on both sides by lush forest.
Here's a selection of photos from the first part of the track.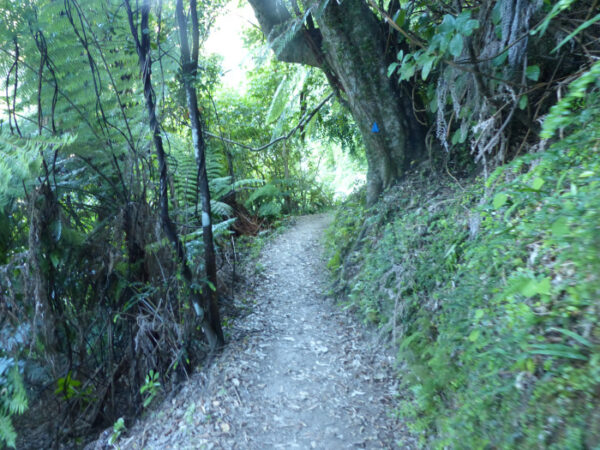 We arrive at a beach and Garrick exhorts us to put on our water shoes quickly. There is little time to lose if we want to make it across the estuary without swimming. We think he is kidding and find out later that he is not. Obediently, we change quickly from runners to water shoes and set off across the estuary. None of us really believes we'll walk in water for long, but we are soon proved wrong. The water quickly rises to knee level. Each step is a slog and the distance to the other side of the very wide estuary keeps getting farther. I love the feel of the water on hot, sandfly bitten legs and the view all around is achingly gorgeous in the late afternoon light, but there is no escaping the considerable effort required to keep going. Wimping out is not an option. I start to count steps as I forge onward through water that millimeter by millimeter gets deeper. The other side is still very far away.
Garrick takes off his pack and holds it above his head. Seriously? Yes. The next part is deeper, a lot deeper. We all hoist our packs over our heads and forge ahead. The water rises up thighs, past buttocks to waist and higher. We keep walking. I think of my camera in the pack. I'd not put it in the provided plastic liner. Would I really need to swim? The water keeps rising, centimeters replace millimeters, and still we walk forward. The water reaches my middle back. My boobs are just starting to float when, slowly, the water starts to recede. We keep slogging step by step and the water falls steadily until finally we reach sand.
Garrick promises us just another ten minutes to the lodge.  The fast-filling estuary stretches to our left; the bush to our right. My water shoes are packed with pebbles. I finally give up trying to coax the pebbles into shiatsu-like positions and pull off the shoes to walk barefoot over the sand.
Finally, we arrive at Meadowbank. A couple from one of the other trips lounges next to the path sipping champagne. We've definitely come to the right place. In Australia back in 2009, Julia and I took several short camping trips with small tour companies that provided all the gear and food. Those budget trips were charming and rustic. This trip with Wilsons is in another league altogether. Gourmet meals, private bathrooms with walk-in showers, and a well-stocked bar go along with a sterling service orientation.
The Meadowbank Homestead at Awaroa is a re-creation of the original homestead built over a century ago. The owners have done a spectacular job building a comfortable, old-world haven equipped with all mod cons. We are directed to our room—called Ivy after one of the many children of the original family that settled the land. The owners are the descendants of the original settlers. In the 1990s, they recognized the potential of this site, rebuilt the house and began offering kayak and walking tours. Wilsons is one of the only (maybe the only) company allowed to operate over night in the park.
The first order of business is a shower in the huge modern shower enclosure—too big to be called a stall. Few things in life feel more divine than hot water sluicing over a sand-encrusted body. I change into lovely dry clothes and join the group on the verandah where I quickly acquire a glass of Sauvignon Blanc. We chat with the couple from Auckland who has been to Vancouver many times and even stayed on Bowen Island. The sun floods the estuary with a flaming golden light, the water an iridescent turquoise. Dinner is served—an excellent appetizer of soya-soaked noodles and bright crunchy greens followed by rack of lamb. Julia's rack of four chops is so big that she is eventually defeated. I handily manage my three chops. A spinach salad and barley risotto with Parmesan cheese round out a well-earned meal. Dessert is cheese and crackers for me; cheesecake for Julia.
Coffee in the lounge is followed by a presentation about the family that settled this place. It really is a fascinating story that even includes a murder. There's a nugget of story there that would be interesting to transfer to Bowen Island.
Day 2: Abel Tasman Park
Breakfast starts at 7:30 with granola and yogurt followed by a cooked option. I choose porridge served with real cream and brown sugar. Hot toast is delivered to the table by the hard-working guides. At 9 am, we start off on a morning walk to a bay where the kayaks await. Julia has a bad cold and decides to stay at the lodge. She will catch the coastal boat at noon, hang out on the beach for awhile, and then walk the final two-hour stretch with Garrick. I opt for kayaking and just pray that I'll not sink the kayak.
The first walk of the day takes us up gentle switchbacks to a spectacular lookout. I like gentle switchbacks—they require effort and sweat but not to an excessive degree. As a way of getting from a valley to a ridge, gentle graded switchbacks rock. From the top, the track heads back downhill to the ocean. Just before we arrive at our destination, a series of wooden bridges across the estuary provide a welcome diversion. It is all so incredibly well done.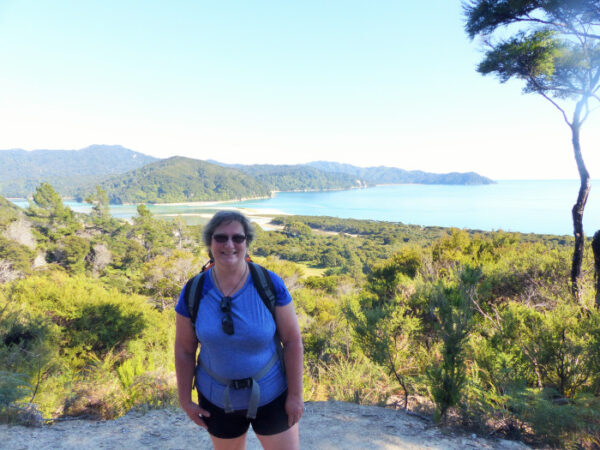 The kayaks lounge like fat crayons on the golden sand. Reds and yellows, stunning in their simplicity. We are instructed in kayaking safety, and then squeeze into our skirts and life jackets. We look like a troupe of aging—and demented—ballerinas. We learn to get into the kayak, attach the spray skirt, work the pedals, and then get out of the kayak. We also learn about capsizing and are assured it will not happen. I hold on to that thought.
Finally, we push the kayaks into the water and are seated for real. I'm paired with a Belgian speed demon who sets an Olympic trial pace. I find out later that he was a rower in his youth. Within seconds, my arms are aching. I seriously question the wisdom and the possibility even of five more hours of paddling. Dip, twist, dip, twist, the pace he sets shoots us forward. Finally, our kayak guide, Jack, yells at us to stop and wait for the rest to catch up. Fine with me. I have no need to be the fastest kayaker, although apparently my companion does.
We kayak at a slower pace across an azure sea past golden crescent beaches and around islands crusted with jumbled white rocks. Sea birds with skinny black necks cry into the wind. Plump brown jelly beans basking on the rocks turn out to be seals. One rolls into the sea and swims towards us—waving his fins and doing somersaults. We are not allowed to go closer to the seals than twenty meters but if the seals come to us to play, that is okay. We are lucky to have a full on seal encounter—a good five minutes of frolicking to remind us that life is joy.
We paddle quietly around an island and head out across a wide expanse of ocean heading south. Jack gets us to raft the kayaks together and tells us we are going to sail. The two women at the front of the two outside kayaks hold the bottom two corners of the square black sail. Straps from the top two corners are wrapped around two paddles held aloft by the two men in the two outside kayaks. The sail is raised and we're off. When I look at the land, I feel like we are not really moving, but when I look down at the wake rushing between my kayak and the one next to me, I see a considerable wake. We are sailing as fast, maybe a bit faster, then we can paddle but with a lot less effort.
The sail comes down and we paddle to shore. After divesting of our gear and pulling the kayaks off the beach (not so easy as it turns out), I make my grateful way to my room. Julia is already there—showered and relaxed after a two-hour hike along the track—quite a bit of it uphill and in the sun. She and the Belgian woman, along with the guide, had stopped at a clear, cold pool and Julia jumped in—a welcome relief to sand fly bites and sweat.
After a hot shower, I change into my one dry outfit reserved for the evenings and join the rest of the group out on another picturesque verandah overlooking the ocean and a soft pastel sunset. Dinner is perfectly cooked salmon, cheesy potatoes, and salad followed by key lime pie. I try to stay up as long as possible, but by 9:30 pm, my eyes no longer keep open. We turn off the light and drop into the heavy sleep of the well-exercised.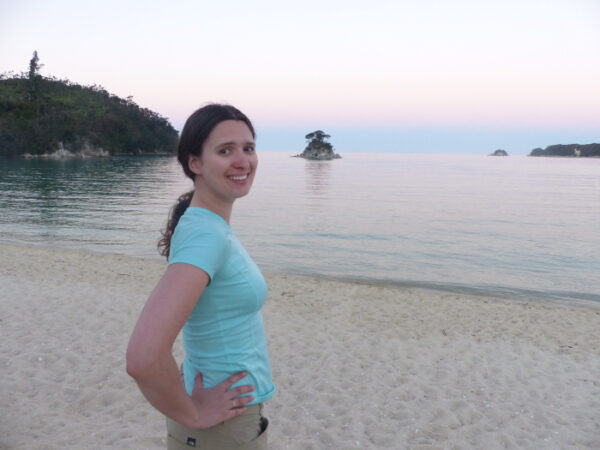 Day 3: Abel Tasman
Dawn rises over the Tasman Sea the next morning as we enjoy a breakfast of zucchini fritters, bacon, and assorted breads, juices, and coffee or tea. The food really is first rate. On this the last day of the three-day trip, we kayak for the morning and then can opt to walk or kayak for the afternoon. Julia again takes the boat to the lunch spot while I kayak. We'll walk together in the afternoon.
On the second day of kayaking, I am fortunately paired with Jack, the guide. The Belgian speed freak has left early and I can comfortably enjoy a much less frenetic experience. My right arm is very sore after day one and so I often need to rest it. Fortunately, for much of the morning, we drift slowly past seal-crusted rocks ringing an island that has been made into a bird sanctuary. The cacophony of bird sounds is lovely to hear, but apparently only a whisper compared to how the birds sounded back when Captain Cook arrived in the 1700s. The bird song that shattered the dawn at four in the morning every day was so loud that Cook was obliged to move his ships farther out to sea so his crew could get their beauty sleep.
After our morning of kayaking, we meet Julia on the beach and we enjoy our packed lunch. The company has seen to every detail. On both mornings, the group can pack their own lunches from an assortment of food laid out on the back porch of the lodge. Along with plenty of healthy choices are a few bins of candy—jelly beans, fudge, licorice.
Our last afternoon is spent walking the last portion of track before we reach the beginning of the park where the bus dropped us two days earlier. The couple from Sante Fe opt to walk rather than kayak so they and Julia and I along with Garrick set a leisurely pace along a track fortunately devoid of any steep bits. I have quite a bit in common with the woman who turns out is a Nia sister, so the time flies. We arrive back at the beach just as the kayaks pull in. A Wilsons bus picks us up (they really have their infrastructure organized well) and delivers us back at the office in Motueka where I settle my bar bill for the two nights, write a sterling review, and then board a minibus for the trip back to our hotel in Nelson. The three days have been perfect in every way.
Next / Previous Post Navigation: